PROTHESES et INSTRUMENTATION ANCILLAIRE
PROSTHESIS and ANCILLARY INSTRUMENTATION
La prothèse totale de hanche PEROT®.
La prothèse originale, résultats présentés au congrès national de Bordeaux (1972 ) et au congrès mondial de Thessalonique (1975 ). Son évolution ( col et assise fémorale ) et son adaptation à toutes les tailles permettent désormais de disposer de 6 tailles de prothèse fémorale et de 4 tailles de cupules pour l'acetabulum. Ce grand nombre de tailles disponibles évite ainsi le risque d'accroire les coefficients de friction ( metal – metal et metal – plastique ) observés avec une prothèse modulaire.
Prothèse fémorale PEROT ® Ref / 159701 à 160101-E
Prothèse acétabulaire PEROT ® Ref / 160201 à 160401-E
PEROT ® Total Hip Joint Prosthesis. The more long live up experience in Prosthesis having introduce the retention of the Cup. Only attempted to copy but never equalled !
Moulded Prosthesis using chrome - cobalt - molybdène casting Ref / 159701 to 160101-E
( Femoral head 12mm to 18mm ) and Socket in Polyethylene Ref / 160201 to 160401-E
( Diameter 20mm to 32mm ) including 6 sizes of Femoral Prosthesis and 4 sizes of retentive Socket .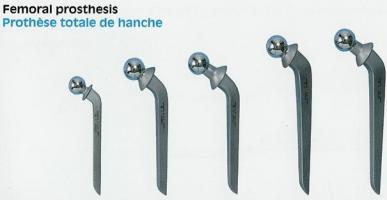 Prothèse acetabulaire : cupule retentive
Dispositif pour mettre le ciment Ref / 160502
PEROT ® Syringe for cement Ref / 160502 available.

INSTRUMENTATION ANCILLAIRE


ANCILLARY INSTRUMENTATION
Fraise Acetabulaire
Ref / 160601 à 160801 – E
Diamètre : 20mm – 24 mm – 28mm – 32mm
Acetabulum Burr
Ref / 160601 to 160801 - E
Diameter : 20mm - 24mm - 28mm - 32mm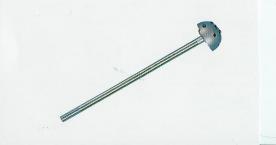 Rapes à fémur
Ref/ 160901 – 161001
Femoral rasp
Ref/ 169901 - 161101 (Smalland Medium-Large-E)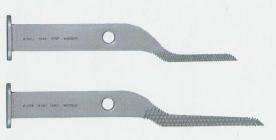 Poussoir pour cupule acetabulaire
Ref / 161601 – 161701 – 161701-E
Acetabulum pusher
Ref / 161601 - 161701 - 161701 -E

Impacteur à prothèse femorale
Ref / 161901
Prosthesis pusher
Ref / 161901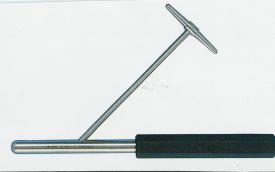 Pince à fémur
Ref / 161101
Bone holding forceps for the femur
Ref / 161101