KITS
SETS
KIT standard PEROT® Ref / 169002
Comprenant :
1 ensemble de plaques droites et plaques préformées avec visserie corticale et spongieuse.
KIT de base standard PEROT® Ref / 169003
Comprenant :
2 daviers contre coudés

Plaques, broches, tournevis et vis,ciseau à os droit, passe fil

Mèches et guide mèches
A complete Standard Plates and Screws Kit including all straight Plates, preformed Plates and all sizes of cortical and cancellous screws.
A very useful standard Basdic KIT for Beginners including small and large PEROT ® Forceps, plates, pins, screwdrivers and screws as well as different items such as chisel, wire passer, awl , drill guide.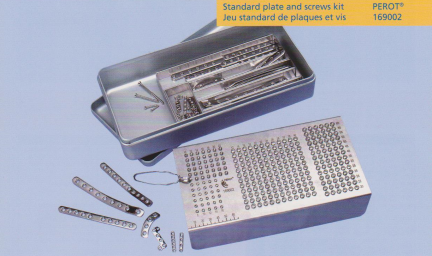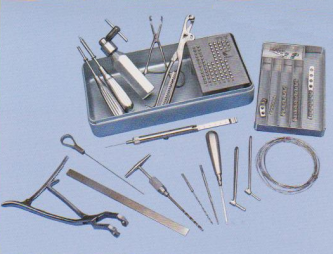 KIT de fixation externe PEROT ® Ref / 166801
Comprenant :
3 tailles d'œillets de fixation

3 tailles de broches filetées

3 tailles de barres de fixation

2 clefs de serrage et une poigée mandrin
KIT spécial petits fragments PEROT® Ref / 169004
Comprenant :
Plaques droites et miniplaques, des broches, la petite taille de fixateur externe

Le petit davier, la visserie, tournevis, mèches et guide mèches

Une poignée mandrin

Fil métallique pour ligature
A complete KIT including: 3 sizes Large Medium Small Fixation Clamps 3 sizes of Fixation Rods ( 4mm - 5mm - 6mm) 3 sizes of threaded Pins( 2mm - 3mm - 4mm ) 3 Drill Bits ( 1,5mm - 2,7mm - 3,2mm ) Chuck Keys Small and Medium
KIT to day able to treat all cases in Small Breeds, including Small specific PEROT ® Plates, screws, Pins and Small External Fixator 2mm Pins. More Screwdrivers, Chuck Key, Small size PEROT ® Forceps and Cannulated Mandel Grip.